Eades (UK) + Miltown (DK)
Garagerock
Sat 22 Oct 2022
€ 8,50
Deuren: 20:00
Start: 21:00
Eind: 01:00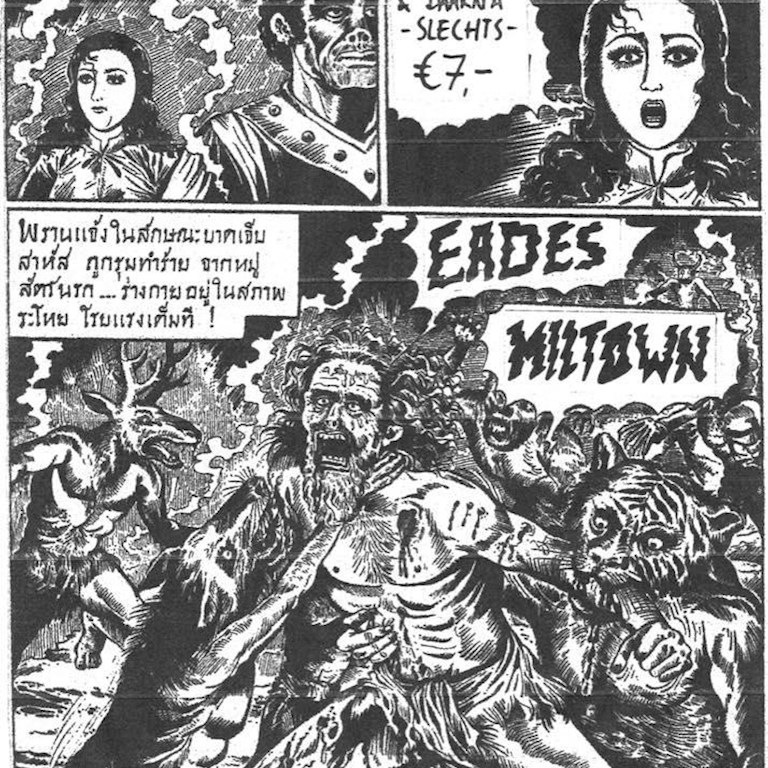 Allerliefste Slachtgenoten,
WE ZIJN TERUG VAN WEGGEWEEST! In oktober openen wij de deuren van onze nieuwe locatie. We zijn heel trots om de eerste namen bekend te maken die in oktober het gloednieuwe podium zullen komen besmeuren.
Eades (Uk):
"If Andy Gill had a love child with Lou Reed, and that child became friends with David Byrne and he and David Byrne made a lo-fi side project." Eades' sound is assembled somewhere within the shifting textures of rhythmic convulsions and low-fidelity rawness. It bounces with an after-hours hedonism. Lives on its wits. Snaps from the fingertips to the brain edges in a transmissible instant. Fidgety. Restless. Raw. Economical. Irresistible songs flecked with CBGB's decadence. Offset by a Bukowski gutterball lyric. Laced with an appropriately dangerous, metropolis menace. Always delivered with fearless abandon. Most bands cram you with theory, but rarely show you how hard the pavements are.
Miltown (Dk):
Promising weirdopunk-ish, garage-y, nonsensical, go-getting band. Miltown comes out of the buzzing underground of Denmark's "little brother" city Aarhus.
Inspired by the never-ending stream of bands from Melbourne and oddballs from the American Midwest Miltown plays garage punk that is both abrasive, aggressive, and catchy and accessible at the same time. Their live performances are captivating and chaotic, a rare display of both anger and frailty that leaves you puzzled, thrilled and anxious to start a band of your own. This fall sees the band embark on their first European tour following the release of their first single 'Respect for authorities'.
Let op! Gratis entree van 20:00-21:00
Vanaf 21:00 entree €7,-