Kate Clover (US) + The Covids
Wap Shoo Wap
Punkrock
Fri 28 Oct 2022
€ 8,50
Deuren: 20:00
Start: 21:00
Eind: 01:00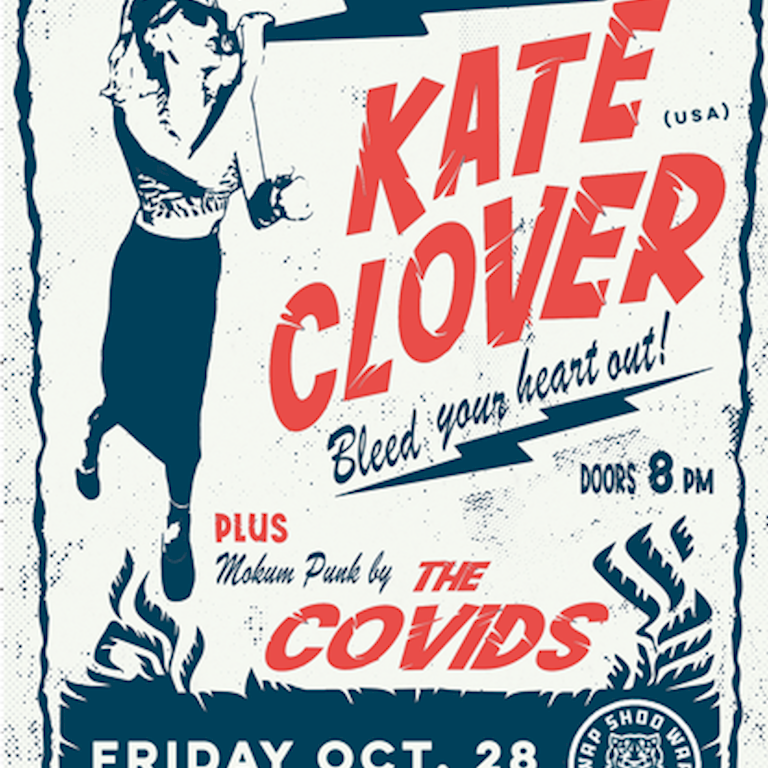 Allerliefste Slachtgenoten,
WE ZIJN TERUG VAN WEGGEWEEST! In oktober openen wij de deuren van onze nieuwe locatie. We zijn heel trots om de eerste namen bekend te maken die in oktober het gloednieuwe podium zullen komen besmeuren.
Kate Clover (US):
Kate Clover is a songwriter and musician from Los Angeles, California. From the local lineage of bands like X, Germs, and The Gun Club, to the glamorous destitution of the downtown streets, Clover is inspired by the city that raised her, exploring the intricacies of self-discovery, self-creation, and self-preservation in the place where dreams are born to die. With the live-wire energy and crackling force of defiant fists raised in the air, Clover's music is the rallying cry of a natural born killer. Leading an ace band of rangy, rowdy boys, Clover cuts an electric figure--a next-gen underground hero for the would-be believers.
With Patti Smith and Iggy Pop as her artistic North Stars, Clover mastered three chords and defected to art school, where she learned to play "Chinese Rocks" by Johnny Thunders, and wrote her first song. She cut her teeth playing in various projects but was determined to go solo, seeking independence and total control.
In 2019 she parted ways with her former bands and was in search of a new start. In need of self-discovery and an escape from her life in America, she headed to Mexico City to write. A four day trip turned into four months, as Clover decided to stay and record her album. Upon her return to the US she assembled a band and quickly carved out a space for herself in the LA scene. Earning a rep for explosive live shows, Clover spent 2019 hitting the road with Death Valley Girls, Crocodiles, King Dude and SadGirl. After independently releasing her first single that same year, Clover's next offering was an EP titled Channel Zero" mixed by Carlos de la Garza (Cherry Glazerr, Bleached, Paramore, Wolf Alice), followed by her debut album "Bleed Your Heart Out" released spring 2022.
https://www.youtube.com/watch?v=SDKa8ciLq3k
The Covids:
Amsterdam's hottest punk band to destroy your eardrums to! Their sound is raw, catchy and energetic… mixing the best of '77 punkrock with some later 80's new wave influences.
https://www.youtube.com/watch?v=hNaN0I2P3HQ
Free entry between 20:00-21:00
From 21:00 €7,-